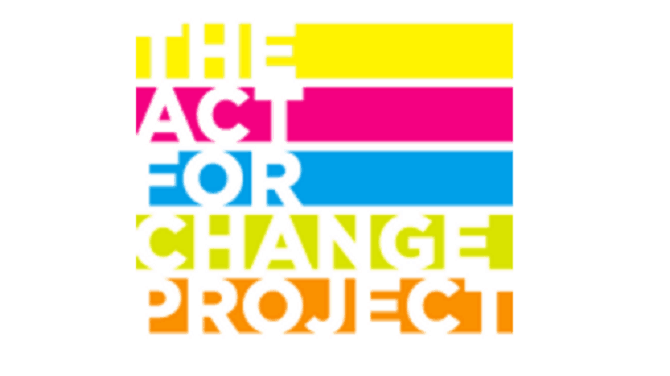 The Act for Change's first Newsletter
The arts are for everyone, regardless of race, gender, class, sexual orientation, age or disability, and they should reflect the societies we live in.  THE ACT FOR CHANGE PROJECT campaigns for better representation across the live and recorded arts. The broader and more diverse their membership, the more empowered they are as a group of campaigners will be.
THE ACT FOR CHANGE PROJECT has a simple mission: to strengthen diversity in the live and recorded arts, and to communicate to the unrepresented audiences that a future exists with them firmly featured in it. To that end we're campaigning to ensure that the live and recorded arts – honestly and without prejudice – represent the Britain we live in today. They have launched their first newsletter, which we encourage you to view …
Hello and welcome to our very first newsletter
If you're reading this, it means you've expressed your support for Act For Change – thank you! As we begin 2016, we reflect on our beginnings, achievements and aspirations for the year ahead…
In case you missed it …  Our debate event Theatre and Diversity – National Theatre, London, 2nd June 2015.
Fired up by our inaugural event at the Young Vic in 2014, we staged another major public forum at the National Theatre in June 2015. Shami Chakrabarti, director of Liberty, chaired a passionate debate focussed on diversity in theatre in the UK. On our distinguished panel were: Artistic Director of Graeae – Jenny Sealey, John Whittingdale MP, actors Cush Jumbo and Adrian Lester, and director Phyllida Lloyd.
2015 certainly brought with it some lows: actors and directors spoke out against government cuts to grants for emerging artists from economically challenged backgrounds; Government changes to the Access To Work scheme had a profoundly negative impact on deaf and disabled people. And, despite ITV changing their all-white, all-able bodied trailer in 2014, early in 2015 the BBC released an all-white, all-able bodied trailer for its drama output.
But there were also many highs, and we attempt to highlight but some of them: Channel 4 published their Diversity Charter. Seven National Portfolio Organisation theatres including Graeae, Birmingham Repertory, Stratford, Nottingham, WYP, Sheffield, Liverpool Everyman and Playhouse launched Ramps on the Moon, a nationwide initiative committed to offering real opportunities to disabled artists. Lucian Msamati played Iago in the Royal Shakespeare Company production of Othello. John Boyega played the lead in Star Wars: The Force Awakens. Rebecca Root played Judy, the lead in Boy Meets Girl, the BBC's first sitcom about a transgender woman.
Michaela Coel wrote, starred in and even did the theme music for her TV series Chewing Gum on E4. Writer/director Gbolahan Obisesan was appointed Genesis Fellow at the Young Vic Theatre.
Act For Change supporter Nadia Fall and Act For Change Trustee Kobna Holdbrook-Smith were made Associates at the National Theatre. Sheffield Theatres maintain a policy of 50:50 gender representation throughout the season.
The Diamond Initiative is due to launch in April this year, giving us statistical analysis of diversity in the industry. This is a major step following years of diligent effort and significant financial investment. We support the Diamond Initiative and, in the meantime, will continue our own AFC monitoring exercise with the next planned for over Easter Weekend.
We Choose The Stories We Tell is our current campaign. It shines a light on the multitude of voices and experiences that are too often forgotten. Stories we tell our audiences play an important role in the way they see themselves and the places we share. #WeChooseTheStoriesWeTell videos are an integral part of this campaign. Help support it by watching and sharing. We are on Facebook and Twitter, and you can email thoughts and experiences to campaignvoices@gmail.com.
Past Campaigns …
Working with others is fundamental to our progress and crucial to affecting change in the industry. We are dedicated to keeping in constant dialogue with friends and this year we look forward to working more closely alongside PIPA (Parents in Performing Arts) and Tonic Theatre (a gender equality company), as we all strive to improve diversity and fight for a level playing field.
We begin to forge a closer relationship with Equity, build partnerships with schools and creative establishments across the country. Committee member Kiruna Stammell attended Devoted and Disgruntled in Birmingham for us this year and you can read her report titled "disability and otherness and encouraging colour brave casting" via the Devoted and Disgruntled website, here: D&D report
Last, but by no means least, we're thrilled to tell you that Act For Change is now a registered charity.  This is a major development for us. Help us celebrate by going to our website and clicking on our shiny new "Donate" button!  Your support is integral to the campaign's survival, help us reach our target of £100,000.
We end by saying a big thank you so much for your support. We look forward to growing our connections in 2016.
Here's to a diverse, healthy and happy 2016.